Mother's Day 2020 at Slug & Lettuce
This Mother's Day, treat your mum to a show-stopping afternoon tea at Slug & Lettuce.
We've pulled out all the stops to create a delicious Mother's Day Afternoon Tea to help you show your Mum just how much she means to you. Served in a stylish setting, our signature Honey Afternoon Tea includes moreish sandwiches, savoury scones with cream and delightful desserts. You can even add a cocktail or a mocktail to your tea! Book now to receive a free bottle of Elderflower Green Pressé and 1 glass of Prosecco!
Limited Edition Honey Afternoon Tea
Treat Mum to something truly spectacular – a special limited time only Honey Afternoon Tea!
FOOD
CHOOSE FROM A SELECTION OF SANDWICHES (choose one per person)
✿ Avocado, Tomato & Pesto (V)
✿ Taw Valley Mature Cheddar Cheese & Onion Chutney (V)
✿ Tuna Mayonnaise & Cucumber Roast Chicken & Mayonnaise
SCONES
Served with Clotted Cream and Tiptree Strawberry Jam (V) Or why not try a pot of honey instead?
BITE-SIZED DESSERTS
✿ Rocky Road with Honeycomb Cream Filled Macaringues, garnished with Edible Flowers (V)
✿ Limoncello Cake (V)
✿ Strawberry Eton Mess Shots, garnished with Edible Flowers (V)
DRINKS
✿ Standard Honey Afternoon Tea - Tea or coffee
✿Tipsy Honey Afternoon Tea - 2 Glasses of Prosecco per person (+£6.00).
✿ Cocktail Honey Afternoon Tea - 2 cocktails or mocktails per person (+£6.00). Excludes sharing options and must be the same.
T&C's: Book a honey afternoon tea and the Mum in the party gets a free 125ml glass of house prosecco and a 275ml Bottle green Elderflower Pressé. Minimum 2 people. Available on Sunday 22 March only (Mother's day). Must be booked in advance. Available to over 18's only, ID may be required. Subject to availability whilst stocks last. Offer can be removed at any time without notice. All rights reserved by management.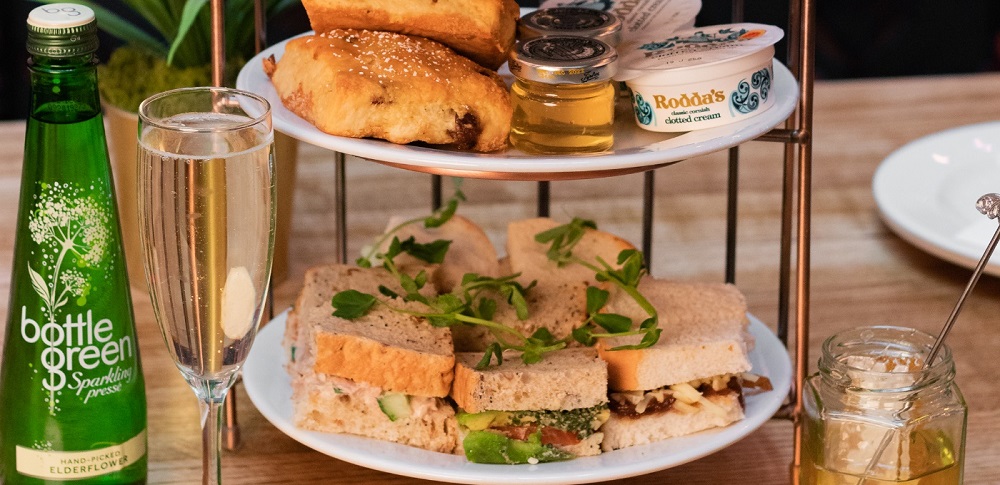 Book Now
Enter your Town or Postcode below to book at your favourite Slug & Lettuce
Popular Slug & Lettuce Venues to book your Mother's Day Afternoon Tea
The Square, Bournemouth | Aldgate, London | Sutton, London | Coventry | Plymouth
Do you have any allergies? Full allergen information is available for all dishes – please ask a team member before ordering food and drinks, as menus do not list all ingredients. We have taken all reasonable steps to avoid the unintentional presence of allergens. However, we cannot fully guarantee separation of allergens or that products are '100% free from' allergens, owing to cross-contamination, as we do not have specific allergen-free zones in our kitchens. Even if you have eaten a dish previously, please inform staff of any food allergies, before placing your order, so that every kitchen precaution may be taken to prevent cross-contamination. We cannot guarantee that any dishes are free from nut traces. Fish and poultry dishes may contain bones. All weights are approximate uncooked. Please note that we do not operate a dedicated vegetarian/vegan kitchen area. (V) Suitable for vegetarians. (VG) Suitable for vegans. (VG-M) Suitable for vegans, yet may contain traces of milk and/or egg. All bookings require a deposit or full payment to secure the booking. Please refer to our full terms and conditions on our website https://www.stonegatepubs.com/terms-conditions. Please discuss this with management at the time of the booking. Management reserves the right to withdraw/change offers (without notice), at any time. All menu items are subject to availability. Images are for illustrative purposes only.