It's time to dust down those Jimmy Choo's and get that outfit sorted. We are really pleased to announce we have now re-opened our bar!
We have of course made some changes to ensure you can sip your cocktails safely. These include new safe distancing measures, a new app and some small changes to our menus (don't worry, your favourites will still be available!).
Here is a short video explaining our new safety measures.

Why not have a table waiting for you? Book Your Table in advance*.
This will help our teams to ensure safe distancing measures are followed by all customers.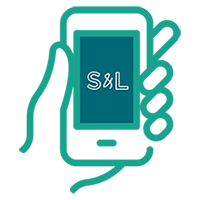 We have developed a new Slug & Lettuce App that allows you to easily view menus, place food & drink orders and pay from the comfort of your table.

We have introduced designated ordering areas in our bars for customers that do not have a smart phone. Contactless Payment is available for all orders of up to £45.
*Please note that booking reservations will be confirmed in line with government guidance such as the number of guests in your booking.
A member of our team will contact you directly to discuss your requirements.
Covid-19 Safety Measures
Please do not visit us if you are suffering, or have suffered in the past 14 days, from the symptoms of COVID-19.
Please follow the safe distancing signage on arrival and through-out your visit.
Please use our easily accessible hand sanitiser stations through-out your visit.
Please wash your hands regularly with soap and water for 20 seconds.
If you are wearing a face mask when you visit us, please keep it with you through-out and should you wish to dispose of it please use the bins indicated.
Please avoid hugging and close contact with others and please sit with the group you arrived with.
We have moved our furniture to ensure we can manage our capacity so please do not move the furniture around the venue.
You may need to queue at the bar or for the toilets. Please respect the personal space of other guests.
Payments should be made by Contactless (up to £45), via our App, or if paying by cash, according to the instructions at the bar.
Children (if allowed entry dependent on our licensing conditions) should always be supervised and remain with your group.
On arrival at our venue you will be requested to provide your contact details in order to comply with government guidance. These details will be held securely for 21 days and only accessed should the NHS or government request so.
If you need extra assistance, we will aim to offer this where we can. If you have special requirements, please speak to a member of our team and they will aim to assist you.
If you would like to see further information on our Covid-19 policies & procedures please click here.