New Afternoon Tea at Slug & Lettuce Coventry
Afternoon tea just got a little upgrade! 😏 Choose two savoury plates and a treat each to go with your perfect sip, from just £16 per person!
Take a look at your delicious food options and our FAQs below, or get booked in for the perfect day out at Slug & Lettuce Coventry now.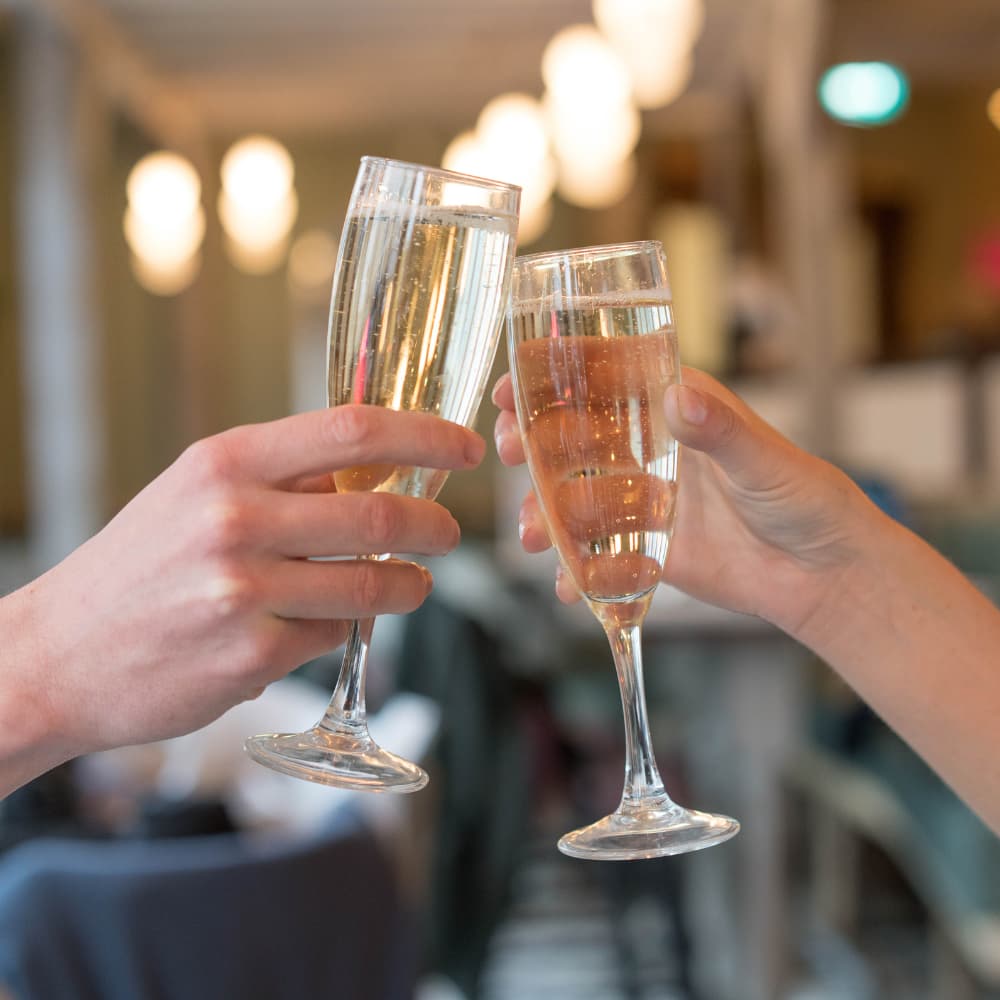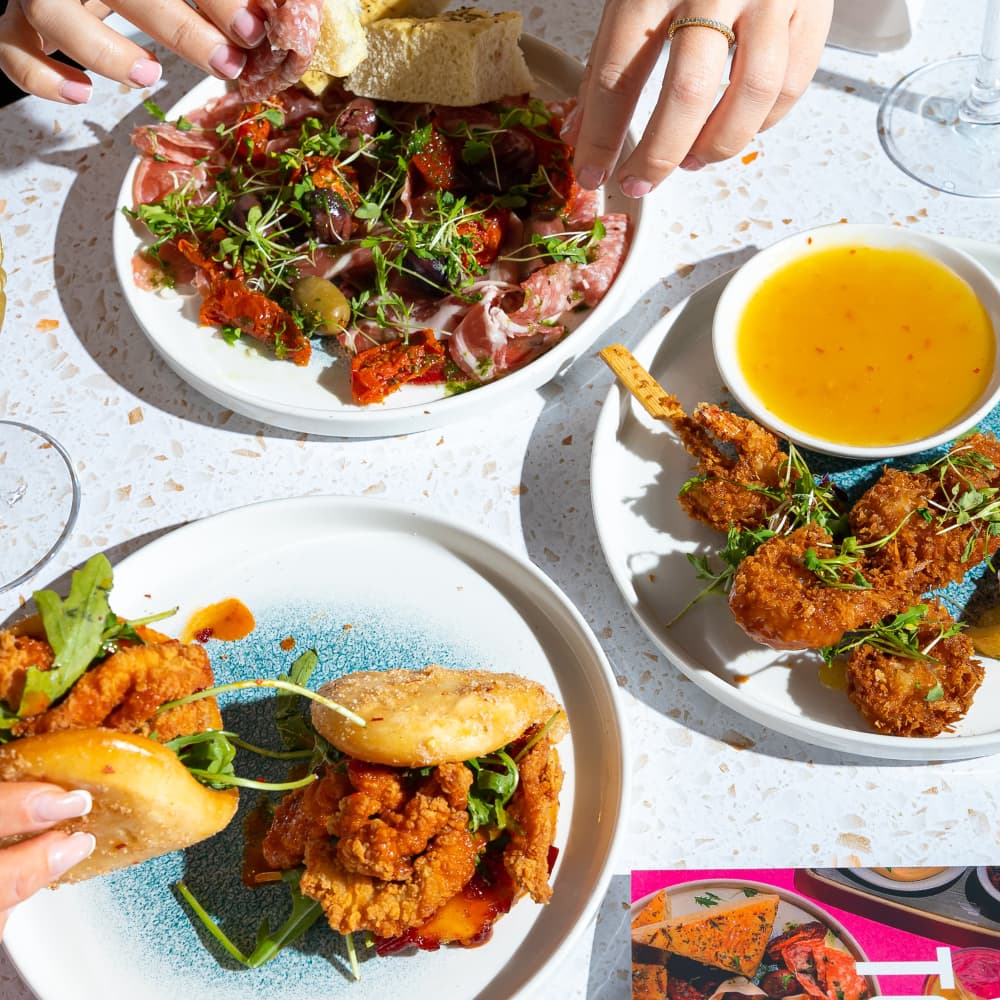 Small Plates
Choose two per person:
Crispy Teriyaki Tofu (VG) | Halloumi Fries (V)
Red Pepper & Sesame Houmous (VG)
Crispy King Prawn Skewers | Antipasti
Padrón Peppers (VG) | Cheesy Nachos (V)
Crispy Shredded Chicken
Ibérico Ham Croquettes
Glazed Chicken Skewers
Sheezy Mushrooms (VG-M)
Pigs in Blankets | Crispy Calamari Bites
Hand-Battered Fish Goujons
Halloumi (V) or Crispy Chicken Bao Buns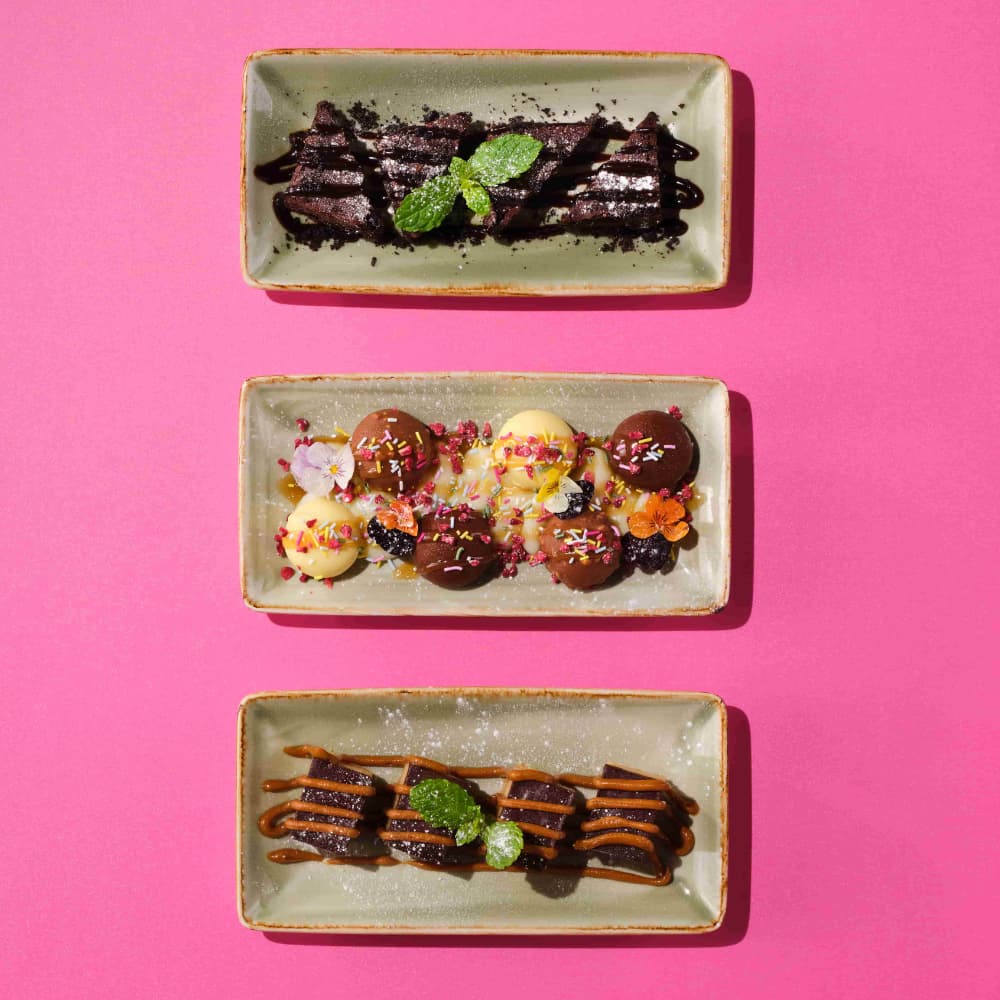 Something Sweet
Choose one per person:
Salted Caramel Cheezecake Bites (VG-M)
Magnum® Ice Cream Bites
Millionaire's Brownie Bites (V)
Little Moons™ Mochi Ice Cream (V)
Warm Mini Churros (V-M)
What our guests say about afternoon tea at S&L...
FAQs
When is Sip & Share available at Slug & Lettuce Coventry?
Sip & Share is available every day until the kitchen closes - plenty of time to indulge!
---
Do I have to book?
Yes - this exclusive Slug & Lettuce experience must be booked in advance.
---
Which cocktails are included in S&L's new afternoon tea?
Choose two of the same cocktail from our 2-for-1 selection, including Pornstar Martini, Sex on the Beach, and Mojito. Browse our full menu to see more options! Alternatively, choose from our Fruity Pornstar Martini, Apple Mojito and Bambini Bellini mocktails.
---
Can I book Sip & Share at Slug & Lettuce Coventry as a gift?
Of course - it's the perfect gift for any occasion. Why not purchase an S&L gift card for the special person in your life?
Terms & Conditions
Do you have any allergies? Full allergen information is available for all dishes – please ask a team member before ordering food and drinks, as menus do not list all ingredients. We have taken all reasonable steps to avoid the unintentional presence of allergens. However, we cannot fully guarantee separation of allergens or that products are '100% free from' allergens, owing to cross-contamination, as we do not have specific allergen-free zones in our kitchens. Even if you have eaten a dish previously, please inform staff of any food allergies, before placing your order, so that every kitchen precaution may be taken to prevent cross-contamination. We cannot guarantee that any dishes are free from nut traces. Fish and poultry dishes may contain bones. All weights are approximate uncooked. Please note that we do not operate a dedicated vegetarian/vegan kitchen area. (V) Suitable for vegetarians. (VG) Suitable for vegans. (VG-M) Suitable for vegans, yet may contain traces of milk and/or egg.
T&Cs apply: All bookings require a deposit or full payment to secure the booking. Please discuss this with management at the time of the booking. Management reserves the right to withdraw/change offers (without notice), at any time. All menu items are subject to availability. Images are for illustrative purposes only.
Calorie Information
Crispy Teriyaki Tofu (VG) - 503 kcal | Halloumi Fries (V) - 414 kcal | Red Pepper & Sesame Houmous (VG) - 434 kcal | Crispy King Prawn Skewers - 307 kcal | Padrón Peppers (VG) - 205 kcal | Crispy Shredded Chicken - 501 kcal | Ibérico Ham Croquettes - 463 kcal | Glazed Chicken Skewers - 285 kcal | Crispy Calamari Bites - 657 kcal | Sheezy Mushrooms (VG-M) - 661 kcal | Antipasti - 571 kcal | Pigs in Blankets - 591 kcal | Cheesy Nachos (V) - 1056 kcal | Hand-Battered Fish Goujons - 374 kcal | Halloumi Bao Buns (V) - 764 kcal | Crispy Chicken Bao Buns - 784 kcal | Salted Caramel Cheezecake Bites (VG-M) - 457 kcal | Magnum® Ice Cream Bites - 377 kcal | Millionaire's Brownie Bites (V) - 409 kcal | Little Moons™ Mochi Ice Cream (V) - 259 kcal | Warm Mini Churros (V-M) - 346 kcal